Slithering through a sea of winter gear,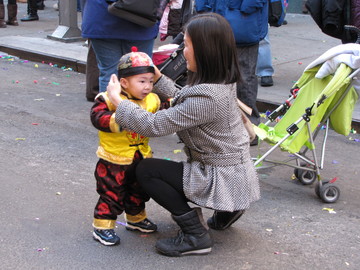 and point-and-shoot masters,
were the hungry, thirsty, and edible adventurers. And this is what was found:
7.   NYC CHINATOWN COFFEE
Now, coffee may seem like a universal street accessory, but let it be known that NYC Chinatown coffee is not your Starbucks or Dunkin' Donuts brew. NYC Chinatown coffee is a roast of its own. It's best known for its unmarked hot paper cups, now with foldable handles that may or may not be used -- case in point. Flavor-wise, it has a milder undertone and, unlike Chinese teas, is welcoming to milk and sugar.
6. THAT HOMEMADE COOKIE
Bundling up your child for the cold goes beyond hats and gloves, and into baggies and sweet treats. Mothers all over Chinatown had prepared themselves for whining and such with an assortment of homemade cookies. There were biscuits and biscotti, chocolate chip and oatmeal raisin. I was jealous.
5. COTTON CANDY
I didn't see this one coming, did you? Cotton candy sellers, just like this, were on Mott, Bayard, Doyers, Pell -- everywhere! They all wore the same serious face behind tri-colored puffy sweetness. Couples and mothers that hadn't thought to pack a snack were excited to see these vendors out.
4. AJI ICHIBAN
This is a snack shop. Chances are that you have had something from Aji Ichiban by now. The store is delightful. It's bright, exciting, and filled with samples. Samples are so great.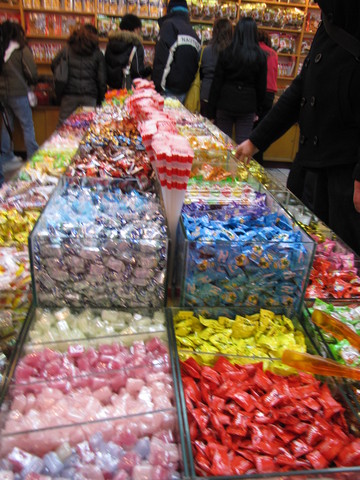 People wanted to buy and try things in here just because they looked like so much fun. I don't know if I would be able to explain what half of these candies are supposed to be about, but I know that I bought some, and that the constituency tried a whole lot of samples.

The aforementioned tourists and culturally curious found this experience hard to pass up.  Not everyone grew up with dried fish and peas in their lunch boxes. This store blatantly offered a look at cultural differences in food.  And if you were looking for something "new" to try, this was the place to be.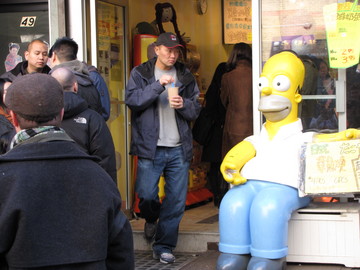 3. BUBBLE TEA
I can admit that I was once a bubble tea fanatic. I hoarded stamp and hole-punch frequency cards. I even tried to make it myself. (Bomb!) And like most people, I have recovered from this addiction. Bubble tea would have topped this list four years ago. But, the general craze for bubble tea has subsided into an occasional refreshment. It had a strong presence at the parade, and will undoubtedly stay on this list for a while.
2. DOLLAR DUMPLINGS
Before famous NYC food trucks, there were the itty-bitty food shops. Chinatown was great for these spots because everything is a little cramped around there. One of the all time favorites is the dumpling spot at 106 Mosco Street. It is itty. It is bitty. And it's so good. It's just a dollar for five fried meat dumplings. What a deal. Styrofoam plate and plastic fork sightings were rampant.
This line running through the store and out the door was an off-peak shot.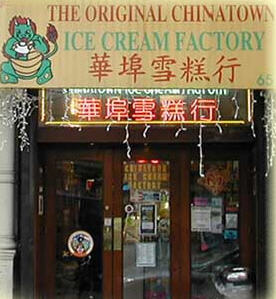 And the #1 snack of the 2009 Chinese New Year Parade goes to...
CHINATOWN ICE CREAM FACTORY ICE CREAM!
Parade day was beautiful and mild enough of a winter day to crave ice cream. I'm betting that The Chinatown Ice Cream Factory would have won this regardless, but the weather flirting with memories of a warmer time just put it in the bag. Ice cream was everywhere. And like the coffee, this is a strain specific to Chinatown. Flavors like  lychee, almond cookie, black sesame and red bean are amazing and often hard to find. This was a definitive last stop for parade goers. It offered discovery in flavors like wasabi and durian, and more familiar satisfaction in flavors like pineapple and rocky road.
Ice cream!